Six Mile Bridge
11841 Dorsett Road
Maryland Heights, MO 63043
Tuesday: 11am – 10pm
Wednesday: 11am – 10pm
Thursday: 11am – 10pm
Friday: 11am – 10pm
Saturday: 11am – 10pm
Sunday:  11am – 4pm
Monday:  closed
Let us host your private event! From special occasions to large happy hour parties we have you covered. Featuring a variety of craft beers, signature cocktails, wines and of course non-alcoholic beverages plus a catering menu that has something for everybody. Contact our Event Coordinator, AJ Dicandia, for more details.
Contact AJ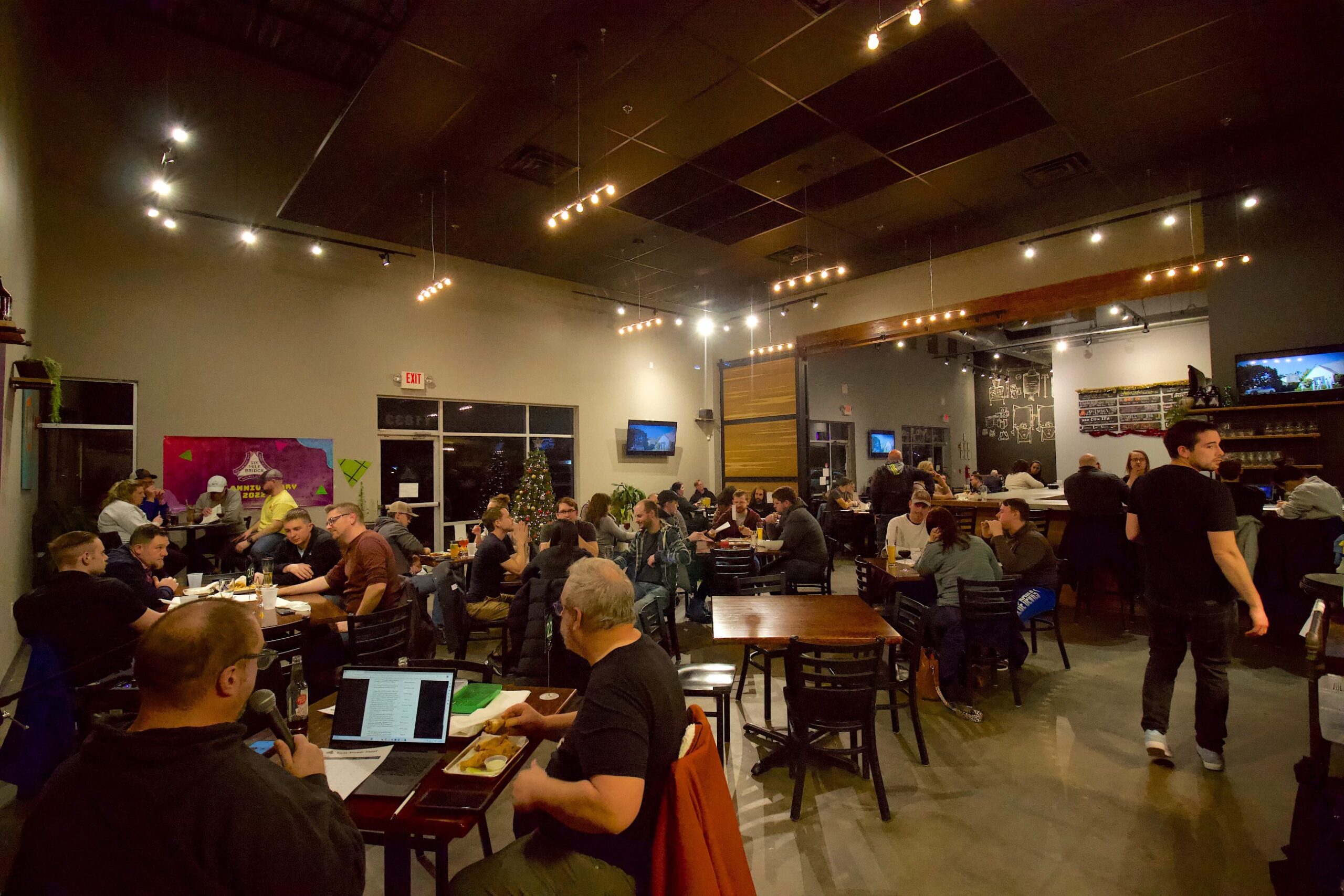 Six Mile Bridge, was born in 2015 out of the passion and enthusiasm of the husband and wife team, Ryan and Lindsay Sherring. Ryan, a South African native, began his brewing journey in 2012 when he founded 021 Brewing Company in Cape Town focusing on quality ales. His wife, Lindsay, a St. Louis native and avid stout enthusiast soon joined the brewery as marketing director — marrying two of her passions, marketing and beer.
After enjoying the success of 021 Brewing Company, Ryan and Lindsay moved to St. Louis to continue their passion for brewing distinctive styles of beer and founded Six Mile Bridge. Named after a small town in Ireland, the village of Six Mile Bridge is nestled exactly six miles between two major towns. Throughout history, the village has been a main thoroughfare where weary travelers and locals come together with new and old friends alike to share tales of their adventures over a pint of beer (or many!).
We hope that as you enjoy our beer, you savor the relationships you have and adventure out to make new ones. As the old Irish proverb goes,
"There are no such things as strangers, only friends you haven't met yet."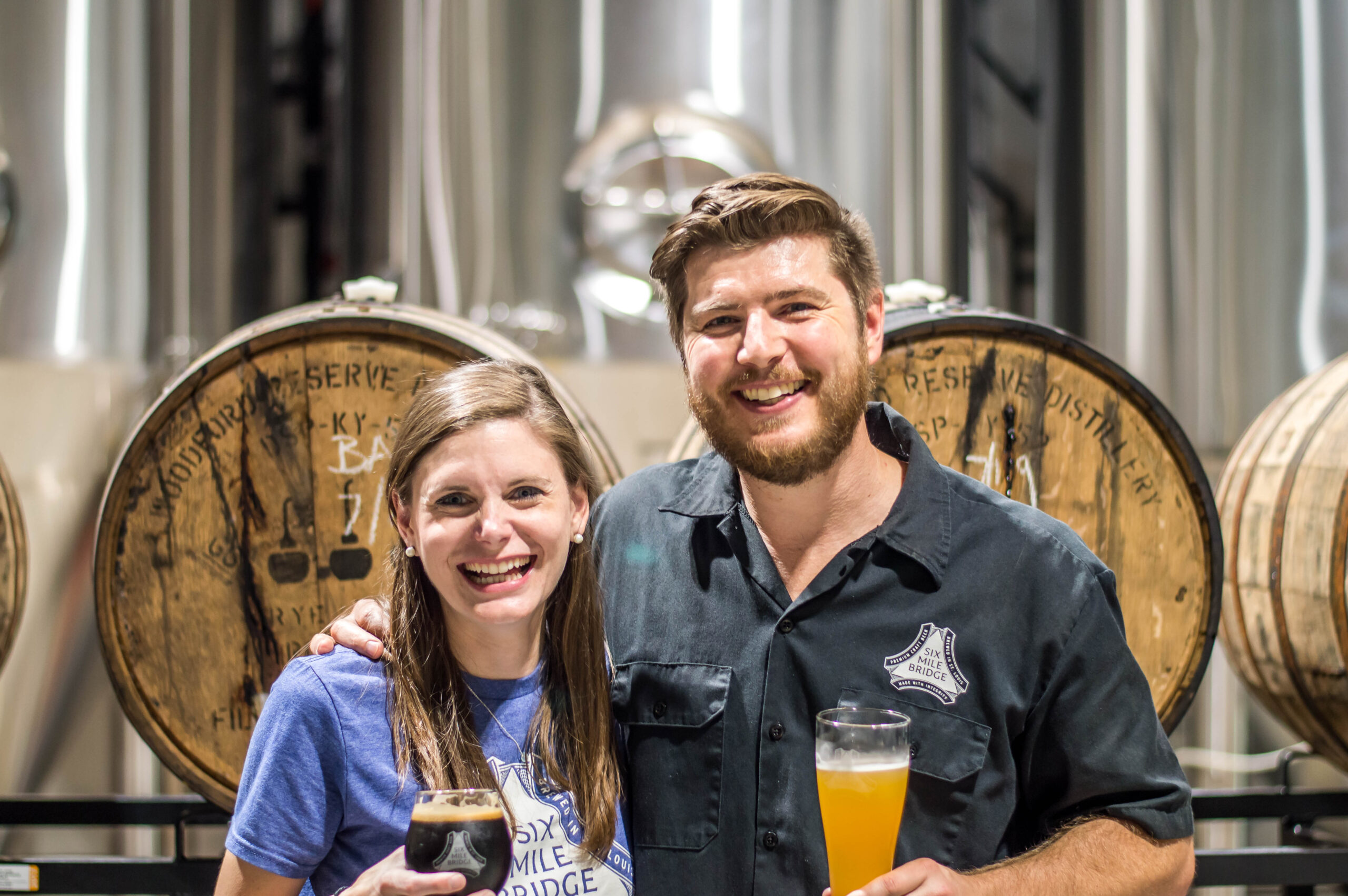 ground beef, onions, tomato, taco spices, pepper jack queso, candied jalapeños, chipotle sour cream, flour tortilla
Flash Fried Brussel Sprouts
served with house-made lemon aioli, topped with parmesan cheese
chicken tenders served with choice of green goddess ranch, buffalo, nashville hot, honey mustard or BBQ
served with pepper jack queso and irish red ale mustard
lightly breaded wings served with choice of buffalo, nashville hot, orange or sweet chili soy sauce
breaded chicken breast, garlic aioli, bibb lettuce, pickles, toasted bun
Nashville Chicken Sandwich
breaded chicken breast tossed in Nashville hot sauce, pickles, bibb lettuce, toasted bun
breaded chicken breast tossed in honey mustard, local Missouri bacon, pickles, bibb lettuce, toasted bun
breaded chicken breast tossed in buffalo sauce, green goddess, pickles, bibb lettuce, toasted bun
Double Smash Cheeseburger
two smash patties, american cheese, fry sauce, tomato jam, toasted bun
two smash patties, local Missouri bacon, creamy blue cheese, toasted bun
two smash patties, pepperjack queso, candied jalapenos, bibb lettuce, taco spice, toasted bun
two smash patties, 1000 island, swiss cheese, caramelized onion, toasted rye
crispy fries seasoned with salt and pepper, served with garlic aioli
pepperjack queso, taco spices
crispy fries, ale gravy, cheese curds
cheddar, parmesan, parsley
Add Fried Chicken Tenders
Trivia Night

Every Wednesday

Join us every Wednesday for Trivia night, beginning at 7pm! It's free to play the top three teams win prizes!